Apply to Magic Ears: Pros and Cons
Established in 2017, this Beijing-based company is relatively new but easily stands toe-to-toe with ESL juggernauts such as VIPKid and DaDaABC.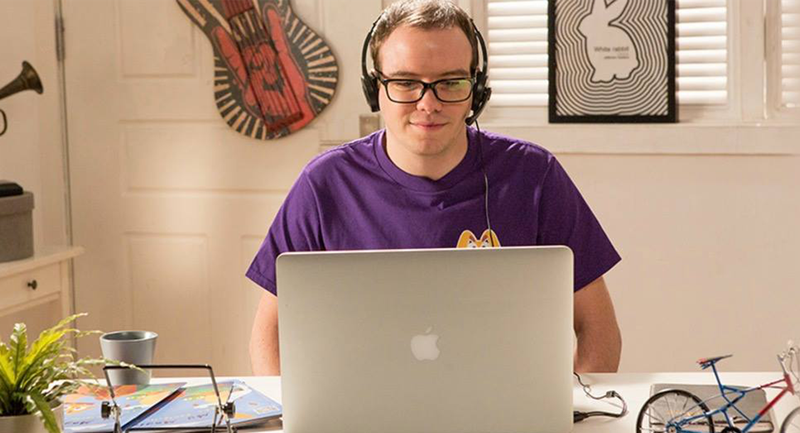 Magic Ears is an innovative and fast-growing online ESL company that prides itself on providing high-quality lessons and teachers to young Chinese learners aged 4-12 years old.
Established in 2017, this Beijing-based company is relatively new but easily stands toe-to-toe with ESL juggernauts such as VIPKid and DaDaABC.
Unfortunately, this fantastic opportunity is only available to teachers from the USA and Canada. If you can meet the requirements, it offers an incredible opportunity for teachers who are looking for a more flexible schedule, fun and engaging curriculum to teach, and great earning potential. Along with being a passionate and energetic teacher, you'll also need to love teaching group lessons, as Magic Ears primarily offers group classes with up to four students per class. However, they are slowly promoting one-on-one classes.
If you'd love to start your ESL journey with Magic Ears, here are just a few things you'll need to keep in mind.
Job Requirements
Unfortunately, Magic Ears is one of a handful of online ESL companies that require you to be a native English speaker and be from the USA or Canada. Apart from this non-negotiable, the core Magic Ears requirements are pretty standard compared to other companies out there.
Here are just a few other essential requirements you'll need before starting your Magic Ears application journey:
Native English speaker from the USA or Canada
Have a bachelor's degree or above (or be pursuing a degree)
Have a TEFL/TESOL certificate (or equivalent)
While many companies require you to have a degree already, Magic Ears accepts prospective teachers who are currently pursuing a degree in any field. This makes it an excellent option for students who would love to earn an extra income while studying, but you will need to provide an official transcript. It's also important to note that they do prioritize applicants who already have a degree, so your application will really need to stand out - make sure you sell yourself!
The Magic Ears website is a bit vague on the technical requirements. Apart from having a reliable computer/laptop and headset, you will need to have a stable internet connection with a download and upload speed of 10Mbps. Because the company's video-calling platform is incredibly complex, it does use a lot of bandwidth. Therefore, Magic Ears does require you to connect via an ethernet connection and not WiFi.
Similar to VIPKid, Magic Ears offers prospective teachers the chance to do their 120-hour Advanced TESOL course with them for only $20! And while teaching experience is preferred it's not a requirement, but it's always good to have some form of teaching experience under your belt.
Job Overview
Magic Ears is one of the more lucrative online English teaching platforms out there and offers potential teachers a generous hourly salary while working from the comfort of their homes. If you're enthusiastic, passionate about teaching young learners, and love teaching group classes, then Magic Ears should be at the top of your list of online ESL companies.
They cater to Chinese students aged 4 - 12 years old. You'll need plenty of energy to keep students engaged as you're likely to teach up to four students per class. However, with their sophisticated platform, superb training, and engaging curriculum, you'll l have no problem enjoying this incredible online opportunity. The Magic Ears hiring process is simple and straightforward. If you manage to wow the recruiters, you can start teaching within 48 hours!
How much can you earn with Magic Ears?
According to their website, you can earn up to $26 per hour. However, most teachers start with a base rate of between $9-11 per 25-minute class, which is dependent on your teaching experience and qualifications. Teachers can earn more than their base rate thanks to Magic Ear's incentive system. Here are a few ways you can increase your pay:
Participation - Being punctual is incredibly crucial when working with this company. If you arrive 3-8 minutes early for each class, you'll receive an additional $1 per lesson. You can easily achieve this with your first scheduled class, but it can become a problem if you have back-to-back classes.
Peak Time - If you open more than 60 slots per month during the company's peak times, you'll receive an extra $1 per class.
Performance - Teachers are evaluated every six months. If Magic Ears believes that you're doing a terrific job, you have the opportunity to increase your base rate or receive an undisclosed bonus based on your teaching performance.
Thanks to their incentive system, it's not difficult to see how you can earn up to $26 per hour, and they provide one of the best hourly rates on the online ESL market right now. Magic Ears pay by the 10th of the following month via direct bank transfer or PayPal.
Application Process
The application process with Magic Ears is quick and easy and should take approximately two weeks to complete. If you manage to wow the recruiter, your application could be fast-tracked, and you could start teaching within 48 hours! Here's what you can expect when starting your application process with Magic Ears.
Submit Application
You'll need to make sure that you meet all the requirements before applying. Head to the Magic Ears website, fill out your profile and submit all relevant documents, including your ESL teaching certificate, bachelor's degree (or official transcript) and an updated resume.
Interview and Demo Lesson
Once you're accepted, they will invite you to complete a short interview and demo lesson which should take about 8-10 minutes to complete. There are two options: live or recorded. Both options are done via the Magic Ears platform, and the teaching materials are provided beforehand. There are a few great videos available online that can help prepare you for this stage of the application process.
Once you've wowed the recruiters with your teaching, you'll move on to the next stage - training. Magic Ears require their applicants to undergo two forms of training to help prepare them for their trial class. .
1v4 Training - this training is completed with two other applicants and a trainer and can be scheduled at your convenience. This portion of the training will help get you familiar with company policies, classes and teaching with Magic Ears. The entire session should take approximately 60 minutes to complete.
1v1 Training - this portion of the training will just be you and a trainer. Make sure you've read through the teacher's manual before this session, as you will be quizzed on Magic Ears policies and teaching procedures. Make sure you've double-checked all the technical aspects required from you - internet connection, fun background, good lighting and headset. Once the trainer is satisfied, you'll need to complete a final demo. This is to make sure that you're ready to teach your first class, and it's a great way to help prepare you before your trial lesson.
Trial Lesson
You've made it to the final hurdle in the application process. During the trial lesson, you'll be conducting a real class with real students. However, you will be evaluated by a Magic Ears staff member. If you've paid attention during the training sessions, applied all your knowledge, have your props ready, and prepared for the class - then there's nothing stopping you from becoming an official Magic Ears teacher!
Background Check and Contract
Once you've breezed through your trial class, you'll need to provide Magic Ears with relevant information for them to complete a background check. You'll also receive your contract, which you should read and sign. Contracts run a minimum of six months, after which Magic Ears review your performance, and you can resign if you're still happy.
Magic Ears Application Fast Track
Magic Ears introduced the MAFT program, which aimed to get qualified teachers into the virtual classroom faster. However, this is by invitation only. If you've managed to impress the recruiter during the interview stage, you'll receive an email that invites you to pursue the MAFT program. You'll receive dedicated training, and you should be able to schedule your trial class within 12 hours of first having started the application process.
Teaching Schedule
Magic Ears offer teachers the chance to create their schedule, and they are responsible for opening slots on their own. This is an excellent option for anyone who has a busy lifestyle and doesn't have a consistent schedule. However, you will need to keep in mind that all times are based on the time in Beijing, so you'll need to adjust your schedule accordingly. Each slot is 25-minutes, and Magic Ears recommends that teachers open a minimum of ten slots per week, but this is merely a suggestion and not a requirement.
As previously mentioned, teachers are paid extra if they open slots during peak hours - the more classes you teach, the more money you make. The peak Magic Ears hours are between 7 - 8:30 pm BJT, but depending on your location in North America, you may find yourself teaching in the mornings or late at night. You may also be able to snag a few classes outside of peak times. These are referred to as "special" slots and are between 9 am-5 pm Beijing Time. Weekends are a great time to boost your earnings, as you can open slots all day on Saturday and Sunday as students are usually at home and eager to learn English.
Bookings
Your teaching schedule works according to an automated booking system. This means that parents book a class, but the Magic Ears system assigns students to available teachers. (It's a great option, as you won't have to sit around hoping parents will book your class). At the end of each class, teachers are given a rating by parents - the higher your rating, the more lessons you'll be assigned.
If you love consistency and enjoy teaching the same students, then you won't be getting this from Magic Ears, as each day presents a new set of faces - which can be a lot of fun! Teachers will receive an email 24 hours before their first class confirming their schedule for the next day.
If you have a few open slots during the day, you can become a standby teacher. With this option, you can teach a class that has been cancelled by a fellow teacher, and it's a great way to earn extra money.
Platform and Curriculum
Platform
As previously mentioned, the Magic Ears platform takes quite a bit of bandwidth, so making sure you have an ethernet connection is essential. The platform is simple and easy to navigate and provides teaching tools, such as a writing tool to help keep students engaged during the lesson. They have a robust rewards system that the students seem to love, along with the option to bring students onto the "stage" to better interact with them in the classroom.
Curriculum and Class Structure
The Magic Ears curriculum is tailored to various proficiency levels, including a Phonics level for those starting their English journey. They have a comprehensive curriculum that's diverse and engaging, thanks to their winning formula of vocabulary slides, videos and interactive games.
You're required to complete the entire lesson, making sure never to skip any slides. However, there is more than enough content to fill the 25-minute class. Along with an email notification, the class material will be provided before the start of the lesson. While minimal prep is required, it's always a good idea to review what you'll be teaching before the beginning of the class. Magic Ears also advises their teachers to have one or two props available to help further engage students. At the end of each lesson, you'll need to provide feedback to the students via the teacher's portal, no later than 18 hours after completing the class.
Cancellations
If you're a busy parent or have an active lifestyle, this is the ideal position for you. Magic Ears is incredibly understanding when it comes to emergencies or falling ill, and they provide a flexible cancellation policy that's penalty-free. You're given four free cancellations each month, but these cancellations need to be made 24 hours before the start of class. After you've used your four free cancellations, you'll need to exchange your Peak Carrots that you've earned by opening slots, to close the slots. You have full control of their class schedule and can use the teacher's portal to cancel slots without notifying a staff member.
Pros and Cons
Pros
Magic Ears assigns classes for you to teach, so no having to deal with parents and no having to sit around and wait for bookings.
Your schedule is incredibly flexible. There are no minimum hours, but tutors are advised to open a minimum of 10 slots per week.
They have an excellent cancellation policy, making it the perfect work from home position for individuals with a busy lifestyle.
Cons
Early mornings and late nights may not be for everyone.
Some Magic Ears teachers have reported that the staff are not quite as supportive or responsive as they should be.
Magic Ears Vs VIPKid
There are many pros and cons when deciding which of these online English companies to choose from. But the main difference between the two is the class size. If you enjoy teaching one-on-one lessons, then VIPKid might be a better option. However, if you love teaching group classes, then Magic Ears should be your first choice. While Magic Ears is a newer ESL company in comparison to VIPKid, they both offer the same pay, perks and legitimacy. However, if you prefer a company that's a bit older and has more experience, then your best bet is VIPKid.
Should you work for Magic Ears?
Magic Ears is a great company to work for if you're searching for a flexible schedule, and they currently pay one of the best rates for teaching online English. They also have an impressive social media presence, with an incredible Facebook community and informative YouTube videos to help get any teacher started. Not all companies are perfect, and this position may not be for everyone. Still, it's an excellent opportunity for anyone that's passionate about ESL teaching and loves earning an extra income while working from home.
Ready to apply to Magic Ears? Head to their website and starts the application process today!
Magic Ears Teaching Reviews
It can be difficult to find the perfect employer, but according to these Magic Ears reviews by teachers, they seem to come pretty close.
The company offers true flexibility as it is promised. There is an opportunity to set a schedule while earning beyond set hours with standby classes! The pay is higher than many online ESL companies. You are held to a high standard of teaching and given a coach from the beginning. The teaching platform is very interactive. You may have to pay a small fee for funds to be deposited to your online PayPal or banking accounts.
Flexible hours. Understanding sick and emergency cancellation policy. Interactive platform. Great pay. Raise with contract renewal. Opportunities for growth. Good communication with Beijing staff. High standards. You may start with low bookings in the beginning, this may be discouraging for some. But I urge you to keep opening your availability because your bookings are based on the slots you open and your teaching rank. I also began with a low booking rate, but I always grabbed standby slots which filled my schedule. This is an independent contractor position. You get as much as you put it.
Q&A
Is Magic Ears Legit?
Yes! There're considered one of the leading ESL companies right now, and currently compete with big names such as VIPKid and DadaABC.
Are there minimum hours when working with Magic Ears?
No, but you are advised to open a minimum of 10 slots per week.
Can I teach without a bachelor's degree?
You can teach without a degree, as long as you can prove that you are actively pursuing your bachelor's.