Teaching at ItutorGroup: job requirements, application process, reviews
While iTutorgroup offers ESL teachers the chance to earn money from the comfort of their living room, they do have plenty of requirements, so it's essential to understand what they expect from you as an iTutorgroup teacher.
iTutorgroup claims to be one of the "largest English-based learning institutes" in the world, and it's not difficult to understand why. Established in 1998, they are the pioneers of the online ESL space and offer students an advanced platform that focuses on "human-to-human" interaction. Despite being around for nearly 30 years, this company continues to take innovative strides and provide classes to thousands of students around Asia with its world-class learning materials and quality teachers.
Where is ITutor based?
iTutorGroup is headquartered in Taipei, Taiwan and has 4 office locations across 3 countries.
iTutorgroup is simply an umbrella term, and the company encompasses numerous other award-winning branches which include, iTutor, TutorABC, VIPJr, VIPABC, TutorJr, TutorMing. There are around 20 000 teachers already teaching with iTutor, but it's not difficult to have your bookings fill up. It's an excellent company to work for if you're looking to earn an income while enjoying the stability that comes with working for a well-established online teaching company.
Ready to get started? Here are a few crucial aspects to know before applying
Job Requirements
Before you start your journey, here are four core itutorgroup requirements you will need to move your application along:
Bachelor's degree or higher (in any field)
TESOL/TEFL or equivalent (or a desire to obtain it)
Able to commit to 10 peak hours a week
Teaching experience is preferred, but not a strict requirement.
Equipment Requirements
Because iTutor offers a comprehensive platform, they do need teachers to fulfill several technical aspects before they can start teaching. While most companies require you to have high-speed internet, you'll need a wired internet connection to work with this company - no WiFi.
Your computer or laptop should be running nothing less than Mac OS 10.12 or Windows 7 with an Intel core duo two processor or equivalent along with 2GB ram. You need to have the latest Adobe Flash Player installed, the most up to date Google Chrome and an HD capable webcam. You'll also need to make sure that your computer/laptop has a minimum resolution of 1280x1024.
An analog or USB headset is crucial when teaching with iTutorgroup and the Microsoft lifeChat LX-3000 is their preferred model, but not strictly required.
The non-technical aspects include having a well-lit room and wearing a red logo-less polo shirt when teaching. They accept native English speakers of all nationalities, as well as non-native speakers who are fluent in English.
Job Overview
iTutorGroup is a reputable and dynamic e-learning company that offers passionate ESL educators the chance to work from home and earn their financial freedom. The beautiful thing about this company is that they offer classes to students 24/7, which allows their teachers to create a schedule that suits them.
iTutor aims to create an online learning experience that's fun and engaging, and they're searching for tutors who exemplify this. They provide a world-class curriculum to students of all ages, which means all you have to do is prepare for the lesson (and enter the class on time). It's an excellent opportunity for teachers who are eager to get into online teaching but prefer to teach adults, as they have a well-established "adult" client base. However, teaching both adults and young learners could prove to be more lucrative.
The number of students within a particular session can reach up to six, but they do provide one-on-one classes too. Along with meeting the company's requirements, you will need to be passionate and enthusiastic about online teaching. As a company that's continuously growing, they're constantly searching for quality teachers and there is no shortage of itutor jobs available.
How much does Itutor pay?
The pay structure within this company is a tad bit complicated, but it's worth understanding before you apply. Many factors contribute to your iTutor pay rates, including your location and teaching experience. They offer opportunities to numerous nationalities, but teachers based in the US/ UK/Canada take precedence. For example, if you're currently in the UK or US, your base pay is likely to be higher than someone from South Africa.
Additionally, teachers based in the US/UK/Canada receive a fixed rate. Anything outside of these locations will receive a base rate + bonus. According to their website, teachers can expect to earn up to $24 per hour. But usually, the average is about $15 to $20 per hour if you include the bonuses. What's great about this company is that they offer a monthly re-evaluation of your pay rate. If you manage to meet all their evaluation requirements, it's possible to see an increase in your itutor salary. You'll receive your iTutorgroup pay at the end of each month.
Bonuses
There are two main bonuses offered by the company. The first is an attendance bonus; you're able to receive an extra $1 per class if you do not miss any lessons for an entire month ( no cancellations, no sick leave). The second is a bonus for conducting over 50 lessons; you'll receive a $1 per class if you've taught over 50 sessions for the month.
Teachers are also eligible for a bonus based on the number of students taught in one session and how well the students have rated you for this class. The more students you teach and the higher your rating, the more money you make.
Is iTutorgroup legit?
This company is 100% legitimate. The ESL market has seen a boom in recent years, but iTutorgroup was at the forefront of this explosion. And with nearly 30 years experience, they don't seem to be showing any signs of slowing down. There is plenty of third-party and investor information available online, which further verifies the legitimacy of this company.
iTutor provides its teachers with official positions that allow them to earn real money each month, and they are known for being prompt with payments. It's also a fantastic opportunity to enjoy a part-time income, but with enough hard work, some people have managed to make enough money and earn a full-time income.
The Application Process
With iTutorGroup, the application process is incredibly easy and provides numerous options to choose from. However, the time between submitting your application to onboarding can vary depending on your online teaching experience.
The process may look something like this:
Submit application
iTutor interview
IT test
Orientation
Complete profile
Paperwork
1 - Submit your application
Head to the iTutor application portal and register your profile, it's quick and straightforward. You'll need to complete all the necessary information, including your teaching experience, education information, nationality, etc. If you meet all the itutor requirements, you should get an immediate notification stating whether you're ready to move on to the next step.
2 - Interview
Despite "work from home" in the job title, this is a legitimate position that requires an interview. Luckily, to streamline their application process, iTutor offers two options during the interview stage: an automated or live interview. The latter is an excellent option if you're already prepared and eager to get started.
Head to the itutorgroup login and click the automated interview option. You'll immediately be redirected to your itutorgroup online interview, which is a set of pre-recorded time-sensitive questions. Each question will take approximately 1-2 minutes to answer and will test your English proficiency. Along with checking your English knowledge, it will examine how capable you are within an iTutor classroom. Various scenarios will be given, so make sure you're thoroughly prepared. The "interview" should take between 10 -15 minutes to complete. Once completed, you should receive a response within 12 hours of concluding the automated interview.
Conducting your itutorgroup interview with a "live" recruiter is another option. Log in and select a time to schedule your meeting. The process is similar to the pre-recorded session and should take 10-20 minutes to complete. What's great about this option is that the recruiter will immediately let you know if you've passed the interview.
Demo Class
Applicants with previous online teaching experience are not required to undergo a demo lesson. However, if you have no prior experience, you'll need to do a demo lesson with a recruiter. The necessary teaching materials will be given, along with enough time to prepare. Because iTutor is such a notable company, finding demo examples online are not hard to come and will help with your preparation.
The onboarding stage is the lengthiest portion of the application process, and there are a few steps you need to complete before you start teaching.
3 - IT Test
Before you can move forward, you'll need to complete an IT test. They'll test your audio, internet connection, webcam, and operating system. iTutor's platform is quite extensive, and an old CPU won't be able to handle the system. Passing this test ensures that you'll enjoy a virtual classroom that's free of any tech hassles.
4 - Orientation
Once you've passed the IT test, you'll receive an email with the second step - completing your orientation. If you're an experienced ESL teacher, you may only need to complete one orientation. However, the recruiter will determine which seminars you'll need to perform. It takes between two and three hours to finish and covers everything from how to teach online to the iTutor curriculum. Make sure you've carved out enough time and have your notepad handy as you'll have to complete evaluations at the end.
5 - Complete your profile
Once you've absorbed all the knowledge from your orientation, you'll need to prepare your profile. A short bio is required, and you'll need to upload two short introduction videos (one for children, and one for adults). Use this opportunity to entice prospective students and share what makes you such a fantastic teacher, and why they should choose you. There are numerous introduction videos available online if you're searching for inspiration.
6 - Paperwork
The fourth and final step before you start teaching is completing your paperwork. You'll have to submit the necessary documentation, including your passport or a national ID, along with a copy of your bachelor's degree. If you have an ESL certificate, you'll need to upload this too. However, if you don't currently have a teaching certificate - no worries, you can still teach, but you'll be required to obtain one within 90 days of conducting your first class.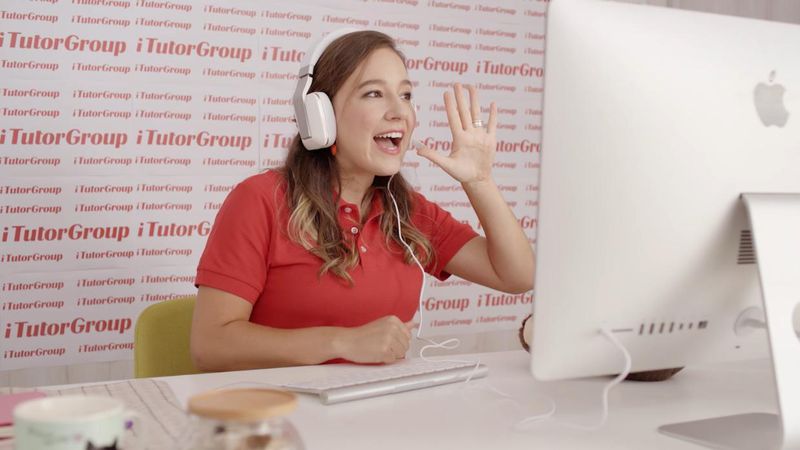 Teaching Hours
Working online already provides a great deal of flexibility, but with iTutor's scheduling students can book 24/7. There is no limit to how many hours you can teach, but iTutor does require their teachers to commit to a minimum of 10 hours a week on a fixed schedule during Chinese peak times. At least four of those 10 hours will need to be taught on the weekend.
What are the itutorgroup peak hours?
Peak hours are the busiest times for teaching, and most students will be online for lessons during this time. iTutorgroup's peak hours are based on the time in Beijing, and the system automatically selects your fixed schedule according to student demand. However, you can update this fixed schedule once a month.
Peak hours. Monday – Friday: 19:30 – 22:30
Peak hours. Saturday & Sunday: 9:30, 10:30, 13:30, 14:30, 19:30, 20:30
Platform and Curriculum
Classes are done via iTutorGroup's video-calling platform. Their system is extremely robust and provides real-time technical support for your virtual classroom, which is an option that not many online schools offer. It's easy to navigate and gives tutors several useful teaching tools, including a rewards system to engage students during the lesson successfully.
Class Structure
It's an excellent company to work for if you're eager to teach adult classes. They also provide the option to teach both adults and kids, which offers a bit of variety. Class sizes are either one-on-one or group classes of up to six students per class. The class length is usually 25-minutes for junior and 45-minutes for adult lessons.
Curriculum
iTutorgroup offers a comprehensive curriculum that caters to various age groups and proficiency levels. There are 12 levels for both adults and children, and students can choose which level and course work suits them. They offer a phonics-based curriculum to younger students, although you will need to get the "Jr" badge on your profile to teach young learners (4-12 years old).
According to their website, they offer the following teaching materials:
OUP (Oxford University Press) material to make learning effective
DCGS (Dynamic Course Generation System) to find the material that suits you the best
Well designed materials targeting all age groups for the best learning experience
Cancellation Policy
If you have a busy family life, this job is perfect for you. Unlike other online schools, iTutorgroup gives teachers the freedom to cancel up to 24 hours in advance - no fuss. You're not required to provide a reason, and you won't incur any penalties.
Pros and Cons
Pros
It's a great company to work for if you prefer teaching adults.
They provide 24/7 technical support to make sure your classes run smoothly.
They offer great incentives, including more pay for teaching group classes.
Cons
If you were hoping to have your weekends free, it's not possible when working with this company.
They have particular equipment requirements that may cause a hiccup in your desire to apply.
There's no fixed base pay, and your itutorgroup pay is dependent on your location.
Should you apply to iTutorgroup?
iTutorgroup provides teachers with a bit of variety thanks to their adult and kids program. If you prefer to teach adults, then this is an excellent opportunity to work for a well-established company that has a large adult client base. The company has no shortage of students, and it's not too difficult to fill up your schedule. However, with all the good comes a bit of bad. The iTutorgroup pay rate is not the most competitive in the industry, but they more than makeup for it with their bonuses. It's also not the ideal position for anyone who enjoys having their weekends to themselves.
If you're convinced that iTutorgroup is the place for you, make sure you head over to their application portal and begin your registration process.
Is teaching online worth it?
If you're contemplating whether to start your online teaching journey, but wondering whether it's worth it, the answer is - it depends. Many people get into online teaching for various reasons, and you'll need to decide what you're hoping to get out of this venture.
It's an excellent option for freelancers or busy parents looking to earn money in their downtime, or if you're looking for a job that tugs at your heartstrings and leaves you inspired at the end of the day - there's a little bit of something for everyone. However, it's not a get rich quick scheme, but it is a viable way to earn money and diversify your income streams. Here are a few benefits to teaching online:
There's a low startup cost, you probably already have the internet and computer/laptop covered.
You can set up your schedule - perfect for busy parents.
It's a legitimate way to earn money, and you can get hired in less than a month!
It's very easy to create a steady income stream based on your popularity and how often you're available.
Anyone can get into online teaching, no matter their career backgrounds.
iTutorgroup reviews
Here are a few iTutor reviews that may help you decide:
iTutor also know as TutorABC is from Taiwan has been around for a long time. The base pay rate if you are not living in a country like the US is not that good at $8-11 per hour. If you are with them for long enough and live in certain countries you can make over $20 an hour. In the past teachers have been able to make up to $30 per hour, but that does not seem to be as common as it used to be. You teach in individual and small groups of up to six students. They provide extremely easy to use materials. You will be teaching adult business professionals. They used to give free Chinese Mandarin lessons, but that is no longer the case. Note: in our group, there are those who love iTutor and those who absolutely hate them. Very mixed reviews. Nikki covers a lot of these concerns in her interview.
This is a good company to work for as the people are friendly and you get to meet new people every day, you get to pick your own hours and work from home, the cons of this job is that you are not always guaranteed work and you rely on the ratings of clients which are not guaranteed.