Qkids review — application process and requirements
If you're ready to start your online ESL journey with Qkids, here are just a few things you'll need to know before you start your application
Considered one of the "new kids on the block", this rapidly growing e-learning company was first established in 2015. But despite their youth, Qkids has become a leading online education platform within the ESL industry - and it shows. According to their website, they cater to over 800 000 Chinese students aged 4-12 years old, and teachers appear to enjoy a steady stream of students. With a well-constructed game-based curriculum at the heart of student learning, teachers can create a virtual classroom that's both fun and interactive.
Unfortunately, Qkids is not for everyone. They place a strong focus on students learning American English, and therefore, only hire North American teachers. If you're lucky enough to reside within the U.S and Canada, Qkids is a great company to work for, offering a stable work-from-home opportunity. If you love teaching group classes, then there's another bonus, as Qkids offers group classes with up to four students at a time.
If you're ready to start your online ESL journey with Qkids, here are just a few things you'll need to know before you start your application:
Job Requirements
As previously mentioned, Qkids only hire North American English teachers (the U.S. and Canada). Aside from this non-negotiable hiring condition, they're not too fussy when it comes to their additional requirements. As with any e-learning company, you'll have to have a reliable laptop/computer, and you'll need to satisfy a few requirements. Here are a few core Qkids requirements you'll need to consider before starting your application:
Bachelor's degree or above
Teaching English certificate (TEFL/TESOL/CELTA, ESL) or teaching license
Be eligible to work in the U.S or Canada
If you're eager to spend your downtime on the beaches of Thailand, that won't be possible when working for this company. Unfortunately, due to Qkid's server limitations, you'll need to physically be in the U.S or Canada to teach with them. Additionally, you'll need prior teaching experience, but this can be as simple as tutoring at university or mentoring; anything that will showcase your previous teaching experience.
The technical requirements are simple. You'll need a reliable laptop or computer with a webcam, and a stable internet connection. A minimum internet upload speed of 2Mbps and a download speed of 4Mbps is required. A headset with a microphone isn't a necessity, but it's always a great addition to help improve your teaching experience. While this is an excellent opportunity to create a flexible schedule, you will have to commit to a minimum of six hours a week, so make sure you're available before applying.
Job Overview
Qkids offers potential teachers a fantastic opportunity to teach English to kids online while working from the comfort of their home, while earning a passive income. If you're passionate about teaching young learners, then this position might pique your interest further, as they cater to Chinese students aged 4-12 years old. It's a fun and alluring position, but it's not for the faint of heart. You'll need excellent communication skills and plenty of energy to keep students engaged, but working with kids is an incredibly rewarding experience. It does help that Qkids pay their teachers quite well too.
Qkids offer their students a unique narrative and game-based curriculum, making it an engaging lesson for students and teachers. Minimal prep is required, and you won't have to deal with parents directly. It's an excellent opportunity for anyone with a busy lifestyle or someone looking to enjoy the flexible hours of teaching online. If you're a fan of teaching group classes, then Qkids offers one more benefit, as you can expect to teach between 1 - 4 students per 30-minute lesson.
How much can you earn with Qkids?
Qkids teachers can earn a competitive salary, which can range between $16 - $20 per hour. However, teachers start with a base rate of $8 per hour, but this can increase through the Qkids incentive system.
Qkids often pay teachers more than their base rate, which you earn through their attendance and performance bonus. To achieve the attendance bonus, teachers need to complete a minimum of 15 classes per week, which nets you an extra $1 per class after that. During each lesson, parents can rate the performance of teachers, which can earn you the performance bonus. If you do your best and perform well during the class, you'll earn an extra $1. These bonuses are relatively easy to achieve, and it's not difficult to see how teachers can make more than the base rate offered.
Teachers receive their Qkids payment via a direct bank transfer at the end of each month - no later than the 15th.
Is Qkids legit?
100% Yes! Over the years, earning money online has gained a bit of a bad reputation and has often been associated with the word "scam". But as the online ESL market continues to prosper, teaching online has become a viable opportunity to earn extra money. Qkids is a leading online e-learning company, so you cannot go wrong when applying with them.
The Application Process
The Qkids hiring process is simple and easy and should take approximately two weeks from start to finish. Here's what you can expect when going through the Qkids application process:
Submit documents
If you meet all the requirements and you're ready to apply, then head to the Qkids website. You'll need to create an online profile that allows you to submit all your relevant documents. This includes a well-polished resume, your teaching availability, and a screenshot of your computer specs. To get a sense of your personality, you'll also need to upload a 1-2 minute introduction video. With this video, you'll need to introduce yourself, your teaching experience, and education background. Your introduction video should also include a short clip of you reading a kids story. Make sure you're charismatic and animated during your introduction clip.
Demo Interview 1&2
You've managed to read your way to the next stage - congratulations! Because the Qkids platform is quite comprehensive and unique, you'll need to demonstrate your technical skills while answering a few interview questions. While this isn't the usual formula that many online ESL companies use, you'll need to keep your wits about you as you answer questions and demonstrate what you've learned about the Qkids platform.
However, don't feel too stressed. The platform is incredibly user friendly, and during the first demo interview, a Qkids staff member will walk you through the platform while getting to know your teaching style. Be prepared to do an informal demo lesson while you demonstrate your knowledge of the Qkids platform and material.
Your second demo interview will be more formal and will feature a more traditional interview session. Once the recruiter is satisfied, you'll once again need to demonstrate your teaching ability by conducting a short demo lesson. The entire interview session should take about 25 minutes.
Contract
Once you've made it through the Qkids application process, you'll receive your Qkids contract. Teaching contracts are six months long, with the opportunity to extend once you've completed an evaluation. As always, make sure you've read through the terms and conditions before signing.
Qkids Teaching hours
As a Chinese-based e-learning company, the Qkids schedule works around Beijing Time. Unfortunately, this means North American teachers will need to work early hours of the morning or late nights to meet the minimum requirement of six hours per week. If you don't mind starting your day at 3 am, it's a great opportunity for stay-at-home-parents or anyone seeking a lucrative side gig that allows you to have your day free. You will need to teach during Chinese peak hours (Beijing Time), which can you can find below:
Monday – Friday: 6:30pm – 9:00pm
Friday & Saturday: 8:30am – 11:40am
Unfortunately, the number of hours a Qkids teacher can teach per week is limited to 19 hours. However, even with 19 hours per week as the maximum, you can still earn a decent salary.
Bookings
There are various slots available seven days a week, which teachers will need to choose based on their availability. One of the benefits of working for Qkids is that the company directly assigns classes to their teachers, and parents have no say in which teacher their child receives. Qkids are flexible when it comes to adjusting your schedule, and teachers can update this before the start of each week. You can teach more classes if you inform Qkids that you'd like to be on standby. This will allow you to pick up extra classes from a fellow Qkids teacher who are unable to teach their lessons.
Platform and Curriculum
Platform
Qkids has one of the most interactive and fun platforms out there. Along with being user friendly, the platform works in correlation with the coursework, showcasing the adorable Qkids' characters through a unique narrative that's focused on the lesson. The platform has a comprehensive rewards system that includes a range of fun stickers and a few entertaining filters to help engage students in the classroom. A great platform feature is that teachers can contact parents if they run into any problems with the student by simply clicking a button. The teacher can also contact the support staff if they run into any technical issues. Additionally, the platform allows you to view your schedule and earnings.
Class structure
If you're not a teacher that's comfortable with conducting group classes, then this might not be the company for you. With Qkids, you'll teach up to four students per class. The fantastic curriculum and interactive platform help create a fun atmosphere that makes your 30-minute class time fly by. You won't need to prepare much when teaching, and the interactive games and videos available during the lesson means that you don't need a ton of props in your virtual classroom.
Curriculum
Qkids places a heavy emphasis on games and interactive learning. Throughout the coursework, teachers will find exciting games that encourage student participation and learning. Because you'll be teaching learners aged 4 - 12 years old, you can expect the curriculum to feature basic vocabulary and phrases. The material is generally divided into three parts: general, phonics and Science. During the lesson, the teacher is guided every step of the way. If you get stuck, you're able to glance over and read the teaching objectives and questions for each lesson. Of course, you're encouraged to make the lesson your own.
Cancellations
This is the ideal position for an online teacher that has a busy family life as emergencies tend to happen. Unlike most online companies, Qkids allow teachers to cancel up to five hours before the start of your class - no penalties! However, this doesn't mean that you can go around cancelling classes as often as you'd like. More than six cancellations within six months could result in the termination of your contract.
Pros and Cons
Bookings are directly assigned from Qkids, which means there's less competition between teachers, and you can receive a consistent stream of students.
Thanks to their incentive system, Qkids offer one of the best salaries for online teaching.
They have one of the best platforms around! Minimal prep and props required when teaching with Qkids.
Cons
Qkids has a strict hiring policy. Only teachers from the U.S or Canada can apply.
There's no opportunity to teach from anywhere in the world - even if you're a Canadian or U.S citizen - you're required to reside within North America when working for them.
The early teaching hours might not be for everyone.
Qkids vs VipKid
There are a few significant differences between these two online ESL giants, but their requirements are more or less the same, and they're both great companies. However, here are just a few things to consider when comparing the two:
VIPKid offers 1-on-1 classes which can be more effective in giving individual student attention.
Qkids assign bookings to teachers, which makes it easier to get lessons and fill your hours.
You're able to gain your TESOL certificate through VIPKid, which can save you a lot of money.
Qkids only requires your internet speed to be a minimum of 2Mbps upload and 4 Mbps download - an excellent option for anyone not looking to spend too much on their internet connection.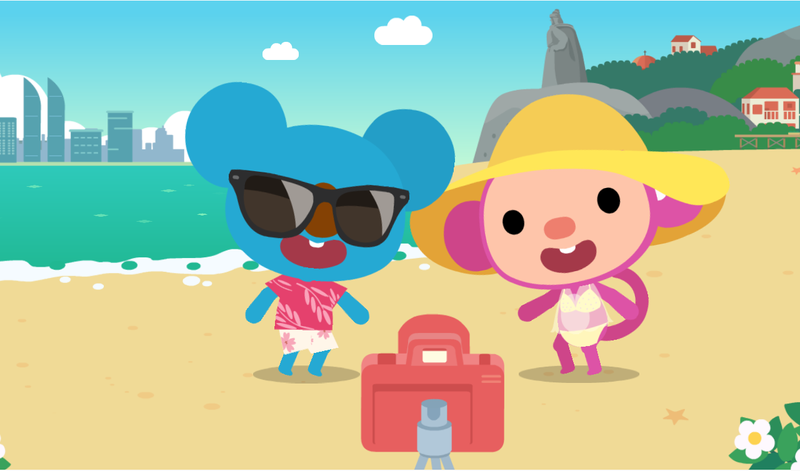 Should I teach with Qkids?
Qkids is a great online teaching platform that connects North American English teachers to Chinese students. It's the ideal position for anyone who's passionate about teaching young students while looking to earn a lucrative income. Of course, no company is perfect. You may find yourself grappling with the early hours or kicking yourself for living outside of North America; however, Qkids teachers appear to be happy working for this company. If teaching long-term is not your cup of tea, then it's another great reason to apply to this company, as their contracts only last six months (with a chance to renew).
If you're a prospective North American English teacher (who resides within the U.S and Canada), and you love the idea of teaching kids and earning money from the comfort of your home - then what are you waiting for?
Head to their vacancy page and start your Qkids journey today!
Q&A
Can I teach from anywhere in the world?
Unfortunately not. Qkids servers are unable to cater to teachers anywhere outside of the U.S and Canada.
How often can I teach?
With Qkids you can work seven days a week, provided you don't exceed the maximum 19 hours per week.
Can I teach without a TEFL certificate?
No, you'll need a TEFL certificate (or equivalent) before applying.
Will I be teaching the same students everyday?
Qkids try to match the same teachers and students, but you should enjoy seeing a few new faces every now and again.
Qkids Reviews
Not every employer is perfect, but if you're eager to see what other Qkids teachers have to say, take a peek at these Qkids reviews:
If you are enthusiastic and love working with children then this job is for you! It is so much fun getting to interact with 2-10-year-olds from China who are eager to learn English and have fun while doing so. The Qkids staff is always available and ready to help you whenever you need it. The hours are flexible and convenient. The hours you give are not always the hours you get booked for so it can be unreliable as you won't make the same amount of money every month depending on the Chinese calendar and the changes in demand.
I've worked for many online ESL companies (including the big well-known ones). Qkids is hands down the best. Immediate bookings. Good pay. Really laid back cancellation policy (you just request off in the app). No props or outside rewards needed. No need to write feedback. There are some tech issues and glitches, but they're quick to respond. They are really strict about your internet and what you ping, which doesn't really make a difference in the classroom.
Honestly, too many to pros name. Perfect for stay at home parents, college students, or anyone who loves teaching. Mutual respect between the company and their teachers. RESOURCES. When you're hired, the platform is filled to the brim with resources for you to explore. The Coaching and CC teams are friendly and so ready to help. Their constructive criticism is incredibly useful. The platform is engaging. The students are the sweetest. The smartphone app that holds your teaching schedule, payment info, and communication channels with your coach and CC teams. Flexible "request off" policy. Supportive FB groups for teachers. None of these are cons for me, but might bother some other people. Base pay of $16 per hour, with bonuses can be up to $20 per hour, which is a little less than other companies. The hours are early and late in the day, especially during summer and winter hours, which can be a little intense.