SayABC application guide - Reviews, interview, salary
If you're eager to get started with SayABC, here are a few things you'll need to know before submitting your application.
SayABC is a relatively new online learning platform, with only two years under their belt. However, this shouldn't deter you from applying to this rapidly growing company as they form part of the distinguished online platform - VIPKid.
Established in 2018, they have fast become one of the largest online platforms in the ESL industry, targeting the market for group lessons instead of the traditional 1-on-1 model.
They primarily cater to young Chinese students between the age of 5 and 12 years old and offer an engaging and well thought out curriculum in partnership with National Geographic.
With friendly and supportive staff, flexible application requirements and one of the most competitive base rates on the market, SayABC is a fantastic option for prospective teachers with minimal online teaching experience seeking a lucrative work from home opportunity.
Job Requirements
Compared to its sister company, VIPKid, SayABC welcomes teachers from nationalities beyond the U.S and Canada, and have expanded their search to include native speakers from New Zealand, Australia and the United Kingdom.
SayABC used to be one of the only companies within the online English teaching industry that accepted prospective teachers who were in their final year of study.
Unfortunately, due to new regulations implemented by the Chinese Ministry of Education, you'll need to have a bachelor's degree to teach English online.
Here are a few core SayABC requirements you will need to consider before applying:
Native level of English
Bachelor's degree or above
Minimum 1 year's teaching experience
A TESOL/TESOL (or equivalent)
As with many online English jobs, your position will be remote, making it a great option to work from anywhere in the world. However, you will need to satisfy a few minor technical requirements before you consider applying.
Equipment requirements
You'll need to have an up-to-date computer/laptop with a good CPU, a reliable headset with microphone and a fast internet connection with a minimum download speed of 10Mbps and upload of 2Mbps. If you can satisfy these SayABC requirements, you're halfway through the door.
Job Overview
Whether you choose to work from the comfort of your living room or the Santorini beachfront, SayABC offers prospective ESL teachers the chance to do this while earning a part-time income.
Compared to other online platforms, they have the most inclusive hiring policies, making it a convenient option for anyone living outside of the U.S and Canada.
SayABC caters to students aged 5 - 12 years old, so make sure you love teaching this age group. If you're uncomfortable with teaching group classes, then this might not be the position for you as they don't offer 1-on-1 courses as an option.
Each lesson is 40 minutes, and they provide the teaching materials so you can be the best educator in your online classroom. Apart from this, SayABC provides a fun and productive atmosphere that teachers and students appear to love.
How much can you earn with Say ABC
If you're someone who loves teaching kids and getting paid well for it, then SayABC should be at the top of your list. This company offers the most competitive pay rates compared to other ESL companies, and the SayABC pay rate is undoubtedly one of the highest out there. According to their website, teachers can earn up to $17 per 40-minute class. However, teachers are likely to make a whole lot more through incentives.
Incentives
While they appear to be downsizing their incentive system, they do still offer bonuses that make teaching with this company well-worth the effort. Here are just a few incentives you can look forward to when working with this online platform:
Attendance bonus - If you manage to turn up to class on time, you'll have the opportunity to earn an attendance bonus of $4 per 40-minute class.
Trial student - With this incentive, if you manage to wow prospective students during their trial class and they sign up with SayABC, you'll receive an additional $8.
Cover bonus - If you're asked to cover a fellow teacher's lesson with less than 24 hours notice, you'll receive a further $7 for that particular class.
Referral bonus - Like many companies, they offer a referral bonus. If you refer a prospective teacher to work for SayABC and they're successful in the application process, you'll earn a whopping $100.
Based on their incentive system, it's easy to see how your SayABC salary can increase beyond the base rate offered. Teachers also have the chance to improve their SayABC pay when their contract renews. Teachers receive your payment on the 15th of each month via a direct bank transfer.
Application Process
If you have all the requirements listed above and you're ready to get the ball rolling, you'll be happy to know that they have a quick and easy application process, which takes approximately ten days.
Submit your SayABC application
To start the application process, head to the SayABC website to sign up and create a profile. You'll need to enter all the necessary information, which should include your qualifications and teaching experience.
Whether you've tutored in college or Au paired in Spain, make sure you've included as much relevant experience as you can to make your application stand out. If you're successful, you'll receive an email inviting you to schedule an interview.
Interview
Because there are quite a few teachers who are eager to apply to this incredible company, it's not always possible to have a live interview with a recruiter. Most of the time, you'll only have the option to do a pre-recorded interview, which a staff member will assess once it's received.
This can make the process less nerve-wracking as it gives you time to process and answer the interview questions; however, you will still need to prepare. Before you begin, you'll be provided with a link to download the SayABC platform, which is where you'll record your interview.
Your SayABC interview and demo are done simultaneously. But before you begin your demo, you'll need to answer a series of questions. Since this is an interview for a legitimate position, expect to answer common interview questions.
Demo Lesson
You may have an easier time without an interviewer present, but you will need to pretend that you're teaching a young student. If you've prepared well and you have a great imagination, then this shouldn't be too difficult.
SayABC provides materials for various levels, and prospective applicants will have three levels to choose from when preparing for their demo. It's best to select the material you're most comfortable doing.
Teachers are given 48 hours to prep for their demo lesson, which should take you 15-minutes to complete. Make sure to have a timer handy as they'll be no interviewer to indicate when it's time to wrap up.
Before your demo, you can enter the platform and practice. This is a great option to make use of to help get familiar with navigating the SayABC teaching platform. You'll have 30 minutes to rehearse, after which you'll need to enter the class and begin recording.
Props and the use of TPR are always a great idea during any demo lesson, and there are plenty of useful videos online to have a look at. The great thing about this pre-recorded interview is that you have the option to re-record your demo at least three times. But try not to stress too much - relax and have fun!
Self Study & Mock Class
Once you've passed your interview and demo lesson, you'll be invited to watch a series of pre-recorded videos that serve as your self-study period. During this stage, you'll learn how to use TPR, engage students, and how to navigate the platform. .
It takes approximately two to three hours to complete, but this depends on your speed. Try and soak up as much knowledge from these sessions as you can, as you'll need to complete an evaluation class that showcases your skills and teaching ability.
During your 40-minute mock class, you'll have to teach real SayABC students using the provided coursework. It should come as no surprise that you need to prepare, and if you have any lingering questions, make sure you ask them before your class.
The parents will evaluate the lesson and send their feedback to SayABC. Once this is received, they will then let you know whether you've passed or not. This can be the most stressful portion of the application process, but nothing can go wrong if you prepare and try and have fun!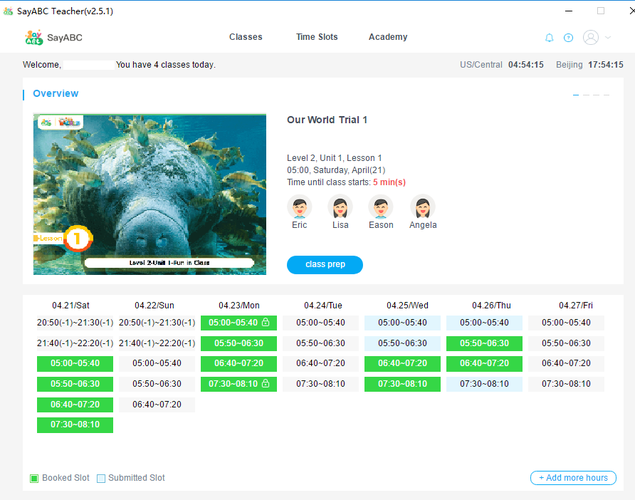 Teaching Process
Contract
Once you've nailed your evaluation class, the recruiter will email your contract to you. SayABC provides a minimum three-month contract, which is excellent for anyone who is looking for a short-term teaching option. However, SayABC does increase your pay the longer you stay with them. Before signing, make sure you've carefully read through the agreement.
Along with your contract, they'll ask you to send through all necessary documentation; this includes your bachelor's degree and ESL teaching certificates, among other things.
Teaching Hours
With SayABC, you have full control over your schedule, but you will need to provide your desired times to them. Since this is a Chinese-based company, all hours are set according to Beijing Standard time. Classes are assigned directly by the company's booking system, and parents have no control over which teacher their child receives. Lessons are allocated based on teacher availability and attendance records. You're able to open slots at least 14 weeks in advance which betters your chances of having a fully booked schedule.
You'll be required to teach the same group of students twice a week until the selected unit is complete, and this will give you somewhat of a fixed schedule. It's an excellent option for anyone looking for a more stable schedule and income, and it's also a fantastic way to get to know their amazing students. There are no minimum SayABC hours, and you're able to open your schedule according to their peak times.
Platform and Curriculum
Platform/teaching process
SayABC has its own teaching platform that's simple and easy to use. Along with loading the selected material for your virtual classroom, they provide several teaching tools that create a fun and engaging classroom, which includes a writing tool and a few interactive videos students can enjoy. Additionally, teachers can view and update their schedule and contact support staff if they run into any problems.
Class structure
SayABC functions according to three main class structures which include, homeroom, trial and emergency classes. Here is a look at each:
Major classes/Homeroom classes - With this type of classroom, you'll be regularly teaching the same group of students. According to SayABC, this helps students create good study habits. These types of classes only run twice a week (Mon/Thur, Tue/Fri & Wed/Sat), and each homeroom covers three units with nine classes per unit. It should take approximately a month to complete each unit, after which a new one will be selected. You'll need to provide your Homeroom schedule to a SayABC staff member before you start teaching.
Trial Classes - If you're not busy teaching your homeroom classes, you may find yourself teaching trial classes. Trial classes are only one lesson of 40-minutes, and you can have up to six students per class. It's the perfect opportunity to show learners why they should join SayABC, so make sure this is a fun and engaging lesson since you will receive a bonus for converting a trial student.
Emergency class - Sometimes emergencies do happen, and teachers need to cancel their classes. If you have indicated to SayABC that you're willing to be on standby to teach these last-minute classes, you'll be notified by support staff and receive an additional $7 for conducting this type of lesson.
Curriculum
SayABC provides a fun and appealing curriculum for students and the teacher. They work in collaboration with National Geographic to bring the material to life, which is all brought together through their coursework titled "World Series". The materials cater to four levels and have numerous engaging activities within each unit. Each level has six to nine units and every unit has nine lessons. The material encourages students through songs, games and video activities. Reading is also part of the curriculum, and learners can practice this through SayABC's "World Readers" series.
Attendance and Cancellations
While having a fixed schedule provides regular hours and income, this type of schedule does present a downside. Compared to other companies, SayABC has a strict leave policy, as students are promised a teacher for all nine lessons of the unit. Teachers may find it difficult to take leave for more extended periods, and unexpected emergencies will undoubtedly conflict with their schedule. Along with not receiving a completion bonus ($36), teachers may find that SayABC will start assigning them fewer classes.
Pros and Cons of teaching at SayABC
Pros
They offer a competitive salary that includes various incentives, making for an excellent opportunity to work remotely while earning great pay.
SayABC has support staff who are willing to help teachers during working hours.
They are one of the only companies that accept nationalities beyond the U.S and Canada without this compromising pay.
Cons
It can feel as if you're locked into a schedule since it's difficult to cancel classes or take leave without it affecting their bookings.
It's not a great option if you dislike teaching group classes, as they only offer this option to learners.
SayABC does provide regular bookings, but some teachers have reported that bookings can dip during specific periods of the year.
Q&A
Do you need a degree for SayABC?
Unfortunately, you will need to have completed your bachelor's degree before you can apply with SayABC.
How long is a contract?
SayABC requires you to commit to a minimum of three months.
Is SayABC part of VIPkid?
Yes, they are the sister company of VIPKid! But unlike VIPKid, they offer group classes and accept nationals outside of the U.S and Canada.
Should I teach with SayABC?
If you're passionate about teaching kids and are looking to earn good money, then SayABC is a wonderful choice. You'll have the opportunity to interact with exceptional students regularly, while SayABC does all the heavy lifting to ensure that you have sufficient classes. However, you will need to stay on top of things when it comes to attendance as this can eventually cause you to lose out on bookings. Excellent support staff and flexible application requirements make this growing ESL company a winner.
If you're ready to get started, head to their website and begin the application process here.
SayABC Reviews
The vast majority of SayABC teachers appear to be happy with this ESL company, but every company has its negatives and positives. Here are a few SayABC reviews that can give you a better understanding of working with this online English school:
Working with SayABC has been fantastic for me. This is a 4:1 environment. Learning and using the platform is easy if you have the correct requirements (upload and download capabilities, ethernet connection, lighting, and an eagerness to teach). You get homerooms that last 9 sessions so you get to learn how the students learn which increases your teaching effectiveness. The IT department is awesome. The feedback from the parents enables me to improve my teaching strategies. The teacher support is awesome. SayABC pays well too. The only downside I've experienced is the lack of bookings. Bookings are computer-generated. I had an IT issue where I had to update my system and the internet. IT would not let me teach until I updated my system. This update took about 4 to 5 days to correct. I missed classes due to this update. These class cancellations are in my file. I have never returned to the bookings I had before my upgrade. When I was hired, my internet system was observed and approved.
I love ELL students. At SayABC, I generally teach very young children, and that is my preferred age level. I love it that I get to teach "homerooms" of children for long periods of time and really get to know them. I come to know and enjoy each child and have a wonderful time watching those children learn to read and to speak English. It's invigorating. The curriculum is dynamic and constantly being updated. I get to be creative in the way that I present material, and I can have a lot of fun with the children as we study together. I also get a unique look at the culture in China as the children communicate with me about their lives. It's fascinating. The children are very nice, and I look forward to seeing them each day. There is a lot of pressure to keep the children's parents happy, which can be hard as there are four children in each class, and the four sets of parents may have different ideas of what they want from a teacher. Communication with headquarters is difficult. Representatives reply quickly to emails, but the replies are often not helpful as there is a strong language barrier between company representatives and teachers. Mostly, I feel like I am on my own as a teacher with little support.