Teaching English and living in Guangzhou, China
As the third largest city in China, it's no wonder many foreign teachers flock to Guangzhou to teach. So, of all the cities in all of China, why Guangzhou?
Located in the south of this vast country on the Pearl River, it's close enough to more 'western' areas such as Macau or Hong Kong, but still has local areas that help you experience Chinese life during your time living and working in this wondrous and diverse country.
Weather ☀️
A benefit for many (but a negative for some) is the weather. Southern China gets notoriously hot during the spring and summer months, and the humidity can be so intense that you'll likely never have a good hair day. Temperatures often reach up to 90 degrees in June – September, and it never really gets colder than 65 – 70 in the winter months, November – March. Depending on what type of school you're in – state or private – depends on the facilities you'll have to keep you cool, so just ensure you take appropriate clothing to stay dry and cool yet still look professional.
Getting around 🚇
Getting around is easy and convenient. The extensive metro line can initially be tricky to work out, but once you get the hang of it you'll realise that a lot of Western underground systems have a lot to learn! The schedules are consistent, and you can buy your ticket from a machine (meaning you won't need to know any Mandarin or Cantonese!) There are reasonably priced buses and taxis with meters, but the drivers are less likely to be able to help you with their limited English.
Social Life 🌆🏞️
If you live in Guangzhou as a teacher, you'll be sure to have an excellent social life. In popular expat areas such as the Tianhe and Yuexiu districts, you'll find bars and cafes that may cost you more than in other areas but will help introduce you to other teachers and likeminded travelers. Both of these areas are downtown, and therefore have the highest number of expats to mingle with. When night falls, there are an abundance of things to do: take a night cruise on the Pearl River, watch a Chinese Opera (Yue Ju), go to Chimelong Circus or just enjoy a club in one of the three famous bar streets (Binjian Road, Bai'e Tan and Huanshi Road).
By day, there are ample things to do for both you and anyone who comes to visit. From climbing Baiyun mountain or going on a funfair ride up the Canton Tower, to visiting one of the Chimelong theme parks or Changlong zoo, there really is something for every preference.
Jobs 👨‍🏫
There are a lot of employment opportunities. Not only are there numerous state and private schools, as well as International schools, Guangzhou is the home of many import and export company headquarters. If you fancy a change from teaching, there're other options available if your skills and experience allow!
Shopping, shopping, shopping 🛍️
With a population of more than 15 million people, Guangzhou offers enough shopping centres and markets to please every need and taste. There are wholesale markets for people to buy clothing or materials in bulk, designated pedestrian streets for leisurely market strolling, or high-end shopping centres such as K11, Tianhe Square and Tianhe City in the downtown districts. Designer goods or local souvenirs – everything is available for tourists and locals alike.
Rich history 🏺
Guangzhou, as is China, is an ancient city with a long and diverse history. This is still visible in some of its architecture such as the Temple of Six Banyan Trees and the ancient town of Panyu. In this village, the narrow alleyways and twisted streets take you back to ancient Canton, with buildings even crafted from oyster shells.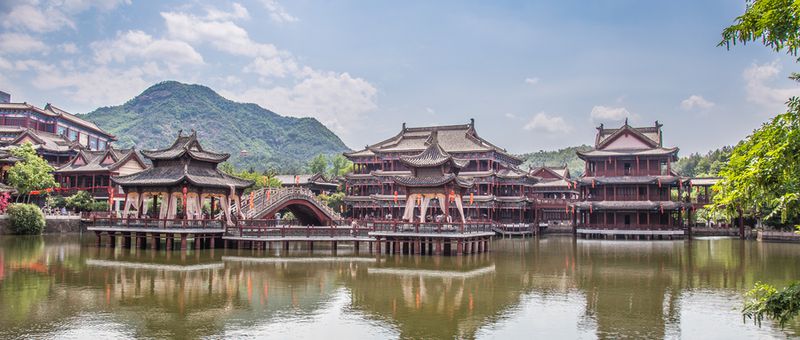 ➖ The drawbacks ➖
As with anywhere, there are always disadvantages to any city.
In Guangzhou, most people speak a different language to other areas of the country. Cantonese is spoken rather than Mandarin. That means that any of the effort you put in to preparing yourself to live in China by learning Mandarin phrases goes out of the window. Not many people will have a good grasp of English, as with the vast majority of Chinese people, so learn a few basic Cantonese words and phrases to help you get by. Be careful – the languages are surprisingly different!
Accommodation can sometimes be less than what you're expecting. Not necessarily specific to Guangzhou itself, but some of the accommodation in China in general can be deceiving, based on photographs alone. Be prepared to be taken up strange corridors and back entrances, and maybe even down to staff sleeping quarters for your bed. Don't be afraid to leave if you feel uncomfortable in any situation, whether it be for a long-term or short-term stay.
The cost of living in a large city is, of course, higher than if you live in a third or fourth tier city, or even in a town or village. Although Guangzhou is relatively cheap compared to Western prices and other cities such as Beijing or Shanghai, understand that you'll likely pay more in general because you're a foreigner and also because you're in a provincial capital city. For example, the average cost of a one-bedroom apartment in the downtown area could range anywhere from 3800 RMB – 5000 RMB ($530 USD - $700 USD). Of course, many jobs include accommodation with your contract, so make sure you're aware of all of your employment benefits and if, or how much, you'll need to budget every month.
Life of a teacher in Guangzhou 🏙️
Just as with anywhere in the world, once you get used to a place it starts to feel like home. Guangzhou is no different.
For foreign teachers, Guangzhou is an excellent choice. Not only will local conveniences be available to you, but there are plenty of opportunities to find the right job to suit you. If you arrive in China and are not happy with your pre-made arrangements, don't be afraid to find something that will enhance your experience teaching abroad rather than hinder it.
The average salary in Guangzhou can often be between 10,000 RMB to 20,000 RMB (from $1,400 - $2800), depending on where you work. As your accommodation is likely to be included, it gives you enough disposable income to enjoy your life whilst in China, and maybe even save some money to take home at the end of your contract.
On top of offering excellent employment opportunities, Guangzhou has an array of Western supermarkets and restaurants to make foreigners feel at home. From Turkish to Moroccan to Italian eateries, there really is something to satisfy every taste. At night, there are nightclubs which attract mostly locals and those that attract mostly Westerners, with pool tables and dart boards. Depending on your preference, you're able to socialise with other likeminded teachers or try to immerse yourself in the language and culture with the locals.
The most important thing to note, is that a day in Guangzhou will never be boring – just remember to look up. With skyscrapers galore, this city offers stunning views from every perspective. The architecture in the city is incomparable, and ranges from old to new.
Guangzhou library is a spectacle to be seen – designed to resemble the Chinese character 'Z'. It appears as though there are books cascading down the exterior, representing the overlap of history and culture in society.
On Shamian Island, a well-known tourist hotspot in the city, the streets are adorned with fountains, statues and a mixture of baroque, gothic and neo-classic architectural styles.
The famous Canton Tower – once the tallest tower in the world – is located next to Haizhu River and is wrapped up in multi-coloured changing lights at night.
The Copper Coin building – named for its circular shape with a circular hole in the middle – stands by the river and at sunset, reflects the number '8' into the water.
Make the most of your time in Guangzhou by planning weekend trips to explore each and every inch of the city, and you won't be disappointed. It has a feel of a small town - particularly compared to larger, more visited cities such as Beijing or Shanghai – which you'll come to appreciate and be pleased with your choice to live and work in such a diverse and open-minded city.
Guangzhou is a city full of opportunity and life, and its eclecticism will leave you with everlasting memories, long after you've left. Although it can be exhausting and hectic, as with any city, it is one of the easiest cities in China to live in, both for its ease of access to visit other well-known places in China but also for visiting nearby South East Asian countries. Its affordability, job availability and sense of community among its expats leaves it very high on the list of the top places to live and teach in China.