ESL teaching job at 31 abc - reviews, salary, benefits, application process
Compared to other ESL giants, 31abc is a relatively new and small company, but they are definitely making waves within the industry. Here are a few things you need to know before you submit your application.
Established in 2016, 31abc is a growing and innovative English teaching company with headquarters in Shanghai, China.
If you love the idea of teaching English online but aren't willing to spend five days a week teaching, then this is an amazing alternative. They offer their teachers a fixed three-day schedule, and an excellent opportunity to grow within the company. Their main goal is to provide students with a consistent teacher and to help them become effective English communicators. They offer a world-class curriculum that integrates gaming principles, which makes learning and teaching a lot more fun.
Job Requirements
Along with having the necessary equipment to conduct classes efficiently, there are a few core requirements that will make or break your application.
Bachelor's degree or teaching experience
TEFL/TESOL - or equivalent
At least one year of teaching experience.
Nationality: US/Canada/UK
Teaching for this reputable e-learning company will provide you with steady work and a good salary. But to ensure that your students will be getting the most out of the lesson, you will need to satisfy several equipment requirements before starting.
Having a high-speed internet connection is number one on the list, along with owning a reliable desktop or laptop that adheres to the company's precise specifications. You'll also want to create a designated teaching space for yourself that has plenty of light and classroom decorations. Adding plenty of props and decorations to your online classroom is a great way to create a fun and engaging atmosphere for your future students. Owning a headset with a microphone isn't strictly enforced, but it's always a good idea to have when you're attempting to create a high-quality experience for your students.
Equipment requirements
Double-check that you have the following computer/laptop and internet specifications before sending through your application:
Desktop: CPU: Intel: i3 4130, AMD: FX 6100;
Laptop: CPU: Intel: i5 7200u, AMD: Ryzen3 2200u;
Internet speed: Download 20 Mbps; Upload 4 Mbps
Job Overview
31Abc is a great company to work for if you're looking for consistency and growth within a company. Their goal is to provide its students with the best possible learning experience, and they do their best to ensure that the ESL teacher meets this standard by providing comprehensive training. Their teaching materials and content are self-developed and cater to learners of varying levels, including phonics. Prospective applicants are required to review the material through self-study.
It's also a fantastic opportunity for anyone who enjoys providing fun and interactive lessons to young learners, as they mostly offer lessons to students between the age of 4-12 years old.
How much can you earn with 31abc
31 abc pay incredibly well and it's one of the best companies to work for if you're searching for a part-time schedule that pays well. They start their teachers off with a base rate of $9 per 28-minute class, but you'll have the opportunity to earn a lot more through incentives, such as their attendance bonus. This bonus is incredibly simple to achieve - make it to class on time and do a great job - that's it. Through this, you can earn up to $2 extra per class.
There are more incentives to be earned if you're willing to perform well for this company, including the star teacher bonus. A trial class and referrals are another great way to add to your earnings. If you manage to wow potential students during their trial class with you, you are offered an additional $5 for every student who successfully signs up for a course with 31abc. Additionally, if you successfully refer a new teacher, you have the potential to earn a referral bonus of $100. However, this is only applicable once they have passed the assessment, training, and have worked for 31abc for at least two months.
The foundation of 31abc is to provide students with a consistent learning environment through regular teachers. Along with providing a professional work environment, they also offer tutors the chance to grow within the company through a 5-tier system. The more classes you teach with 31abc, the higher your base rate. The maximum rate offered is $10 per class - but don't forget about the incentives, which can really push up your earnings. They pay monthly via Payoneer.
The Application Process
Because they're looking to hire the best, the application process can be quite rigorous, but it's worth the effort if you're looking to be a part of a growing online ESL school.
Submitting application
If you meet all the requirements, and you're ready to provide learners with a passionate and enthusiastic teacher, then it's time to submit your application. Applicants will need to submit their resume and a cover letter to 31abc's HR department (hr@31abc.com). Their recruiters are quite prompt when responding to new applicants, so you should receive an answer within a few days of submitting your application. Once you've received a yes, it's on to the next portion of the application process.
Interview
Once recruiters have assessed whether your skills and experience match what they're looking for, you'll need to schedule your first interview. This portion of the application stage can be quite lengthy, as new applicants undergo two interviews before moving on to the next phase - the demo lesson. Along with knowing the ins-and-outs of the company, ensure that you understand what they require from you. Recruiters use this stage to make sure your personality and experience are compatible with what they expect from their teachers. Interviews and demo classes are conducted via the conferencing tool Zoom.
Demo Lesson
Once you've wowed them with your stellar personality and you've passed the interview stage, they'll invite you to schedule your demo lesson. 31Abc provides you with the necessary teaching materials, so make sure you review what you'll be teaching.
Remember, the primary purpose of 31abc is to create a learning environment that enables students to apply what they've learned in class to real-life situations. Utilize plenty of props, TPR, flashcards, anything that will make your lesson stand out. Recruiters are looking for the best, so make sure you give your best. Most importantly, smile and have fun! The demo lesson is conducted with a 31abc employee.
Teaching Process
Contract
You've nailed the interview and demo class, but there's still more to do before you can start teaching. To better understand your role within the company, you'll need to review 31abc's couch policy. This document details everything expected from you as an official 31abc teacher. Read through this document carefully, ask any questions, and sign it when you're ready.
Along with this signed document, you'll need to send additional documentation. This will include a copy of your certifications (bachelor's degree and TEFL), a professional image for your teaching profile, and a 1-2 minute introduction video, just to name a few. They offer their couches a minimum contract of six months, but expect you to stay on longer if possible.
Teaching hours
By offering students a regular teacher, 31abc believes that students can learn better. Not only is this beneficial for students, but teachers as well. This fixed schedule will guarantee that your time slots consistently get booked, and according to 31abc, the booking rate can reach up to 90%-100%. While they provide a flexible schedule, this is a Chinese-based company, which means you'll need to build your schedule around Beijing Time.
It's an excellent position for prospective applicants looking to earn an extra income while working part-time since you're only required to teach three days a week. 31Abc only operates during peak teaching hours in China, which are from 18:00 - 22:00 Beijing time. Because they provide a three-day teaching schedule, they only operate six days a week (Mon-Sat).
Teachers have the option to choose the following class schedule:
Monday, Wednesday, Friday
Tuesday, Thursday, Saturday
You'll need to provide 31abc with your availability and choose time slots of around 0.5 - 4 hours a day, all according to what suits you. You'll need to commit to a minimum of 1.5 hours per week.
Training
31Abc hopes to provide its learners with the necessary skills to communicate in an everyday English environment, and their material reflects this ideal. Successful applicants are required to undergo material-based training, which will help to familiarize themselves with the lessons and how to teach them. All training offered is self-study and done via a pre-recorded video. You'll need to complete an evaluation with a 31abc staff member, who will check and review the results with you. Unfortunately, training is not paid for by the company.
Mock Class
You've undergone all your training and assessments, and you're ready to dive into teaching. Not so fast, teachers are required to complete a mock class before they can open their schedule and officially start teaching.
This is a great opportunity to put into practice what you've just learned and to apply it to a classroom setting with real 31abc learners. During your mock class, an examiner will observe and assess your performance. It can be a nerve-wracking experience, but the company provides you with all the tools to ensure your success. Get your favourite props ready, and have fun! You may be required to complete 1-3 mock classes, depending on how confident the examiner is in your readiness.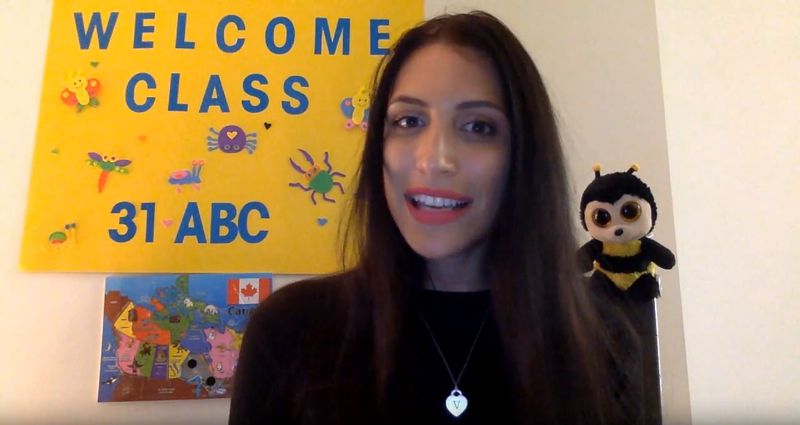 Platform and Curriculum
31abc's Core demographic are learners between the age of 4-12 years old, and they offer their self-developed curriculum to students of varying proficiency levels. Their coursework has a 5-level system, with level 0 being phonics. Levels 2-5 rely heavily on games, which they believe will help to keep the learners engaged during the lesson (it's also fun for the teacher). Teachers are encouraged to make the material their own but they need to ensure that students are maximizing their speaking time.
The class size is small and are 1-on-1 or 1-on-2 via 31abc's video calling platform, which provides adequate teaching tools for their tutors. However, they do offer the option to administer classes via Zoom. With both platforms, tutors can share their screens and utilize the gaming function on 31abc's PowerPoint lesson slides. The duration of each lesson is 28 minutes. Therefore, they can teach a maximum of eight "slots" per scheduled day.
Cancellation and attendance
Because this company provides a fixed class schedule, teachers are expected to be on time for class - no exceptions. It's a vital requirement for all 31abc teachers, and failure to adhere to this will result in a penalization through pay deductions. Teachers should not be later than two minutes, no matter the reason. Teachers are also required to click the attendance button (to let students know you're online) 20 - 60 minutes before your scheduled class. Once again, failure to do this will result in a deduction in pay.
The cancellation of classes by the teacher is frowned upon by 31abc. However, if you provide your supervisor with adequate notice (14 - 30 days) and a valid reason, you can cancel their classes without any penalization. Unfortunately, emergencies do tend to happen, but other than a hurricane or flood, you are expected to be in class. They do offer two days of sick leave each month, as long as you can provide a doctor's note.
Pros and Cons
Pros
Teachers are able to grow with this company through their five-tier system. The more classes you teach with 31abc, the higher your base rate.
They provide great incentives for teachers, including successful signups from trial classes.
The supportive staff that provide an open communication channel via DingTalk for queries. A 31abc teacher support group is also available, where teachers can bounce ideas and suggestions off of each other.
Cons
If you're not careful it's very easy to rack up salary deductions due to penalizations.
Because 31abc provides a fixed schedule to their learners it's difficult to adjust your schedule without giving a 14-day written notice.
Q&A
Can I apply if I don't have a bachelor's degree?
Yes, if you have previous teaching experience with kids.
Do I need teaching experience?
You will need at least one year's teaching experience.
Where are they based?
Their headquarters are in Shanghai and they work according to Beijing Time, so make sure you familiarize yourself with the time before sending through your schedule.
Can I work from anywhere in the world?
You'll need to be from the US/Canada/UK, but you're able to work from anywhere in the world!
Should you apply to 31abc?
31abc Is a great company to work for if you're a passionate ESL teacher and you're seeking a long-term opportunity. They have great students and you'll be provided with consistent classes - which is never a bad thing. However, they do expect the very best and it's relatively easy to lose out on incentives if you're not putting your best foot forward. Along with great coursework, they also provide tutors with the support they need to excel within the company.
If you're ready to start teaching with this company, make sure you've polished your resume and cover letter. Don't forget to focus on all the reasons you're a great fit for this growing ESL company, and Apply directly via teach.fm when you're ready - good luck!
31 abc reviews
I have been working at 31abc full-time for more than a year. Steady students, full schedule and salary on time are the reasons why I love this company, and work with great people who are always helpful for more than a year.I really can't see any downsides
I have been working at 31abc full-time for more than 3 year. Flexible hours, great pay, wonderful staff. Couldn't work for a better company.There are absolutely no disadvantages working for this company.
I have been working at 31abc for more than a year. Great opportunity to help in the intellectual growth of the future generations. Scheduling may be limited at some periods in the year.